E Hitchcock – Godalming
Mrs Hitchcock's 13 year old Indian Sandstone Patio and linked pathways had lost all their original colour. On inspection, the area was covered in black spots, which had become an infestation. When joined by the white spots (white fungi), and a layer of green algae, the result was a dull, lifeless, patio, which became a "death trap" when wet.
Although pressure washing removed some of the dirt, it did not touch the black spots, merely accentuating their appearance. Relying on pressure only, will damage the stone. Sandstone is sedimentary; it cures in layers and splits in layers – pressure washing vibrates the surface, delaminating the layers. Similarly, acid should not be allowed anywhere near the surface of Sandstone, as it will permanently damage the surface.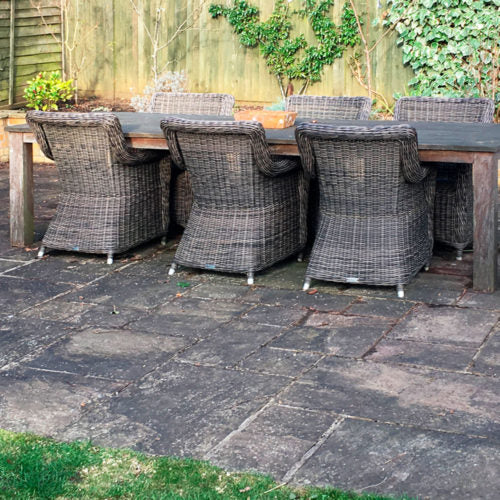 CONTRACT
The formation of black lichen, the so – called Patio Black Spots, on Indian Sandstone, is caused by the leaf spores feeding off the mineral in the stone. They grow, becoming like a tiny sponge, with roots anchoring themselves into the surface of the sandstone.
This is followed by the formation of white fungi. The two cohabit and, feeding off the iron mineral, contained in the stone, the combination produce hydrochloric acid, which will stain sandstone orange by reactivating the iron. This is then impossible to remove.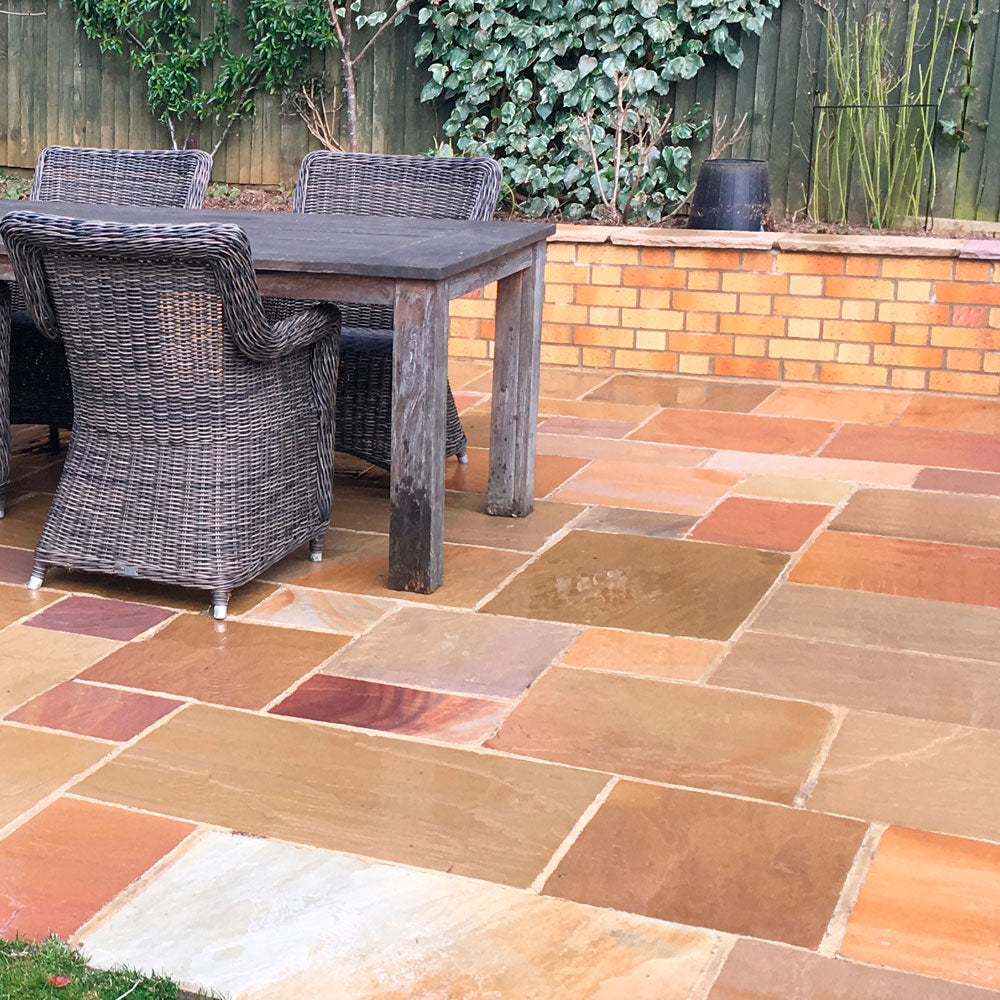 THE RESULTS
Mr and Mrs Hitchcock were delighted, as you can see by the following review. They no longer need to replace the Patio and Pathways, and have their old stonework looking as it was intended to do, when they purchased it, at a fraction of the original cost. It is simply and easily maintained, annually, with Patio Black Spot Preventer.
"Having despaired of ever getting our sandstone patio restored to its original beautiful colours, we are so pleased we contacted The Patio Black Spot Removal Company. We are absolutely amazed with the results following treatment to our patio and stone walls – a fantastic finish that has fully restored the stunning array of colours to our Indian Sandstone. All the staff we dealt with were brilliant and the work was carried out with minimum disruption. We are very happy to recommend this Company."